Expires November 22, 2121 22:40 PST
Buy now and get 10% off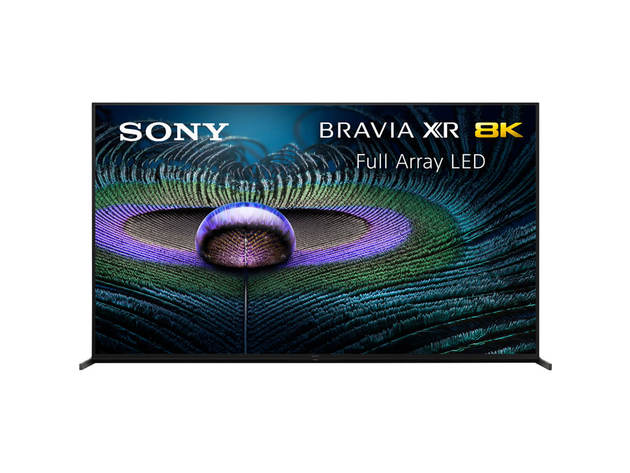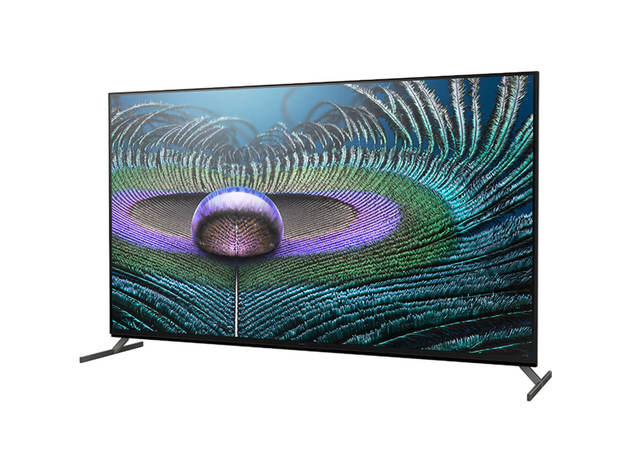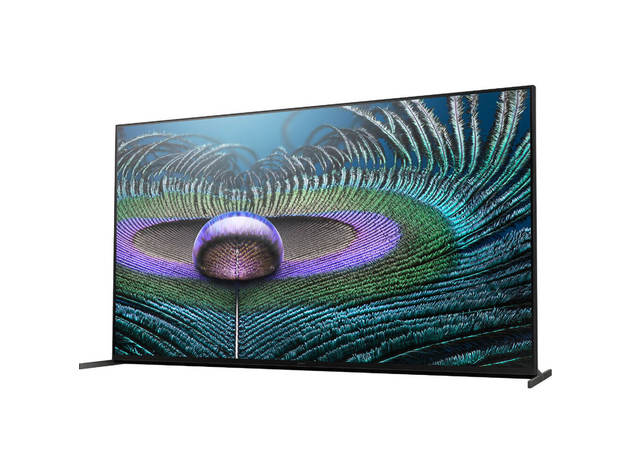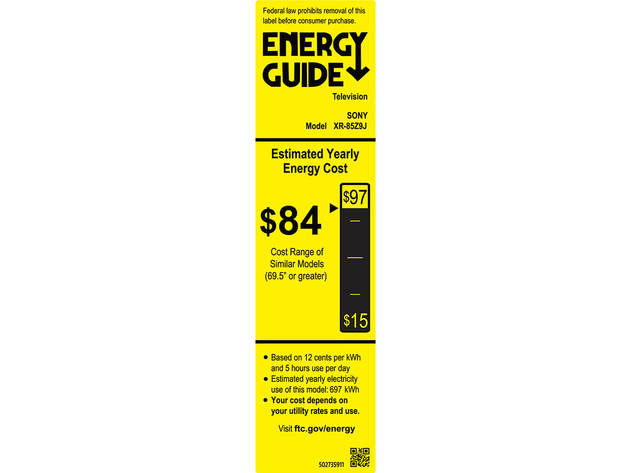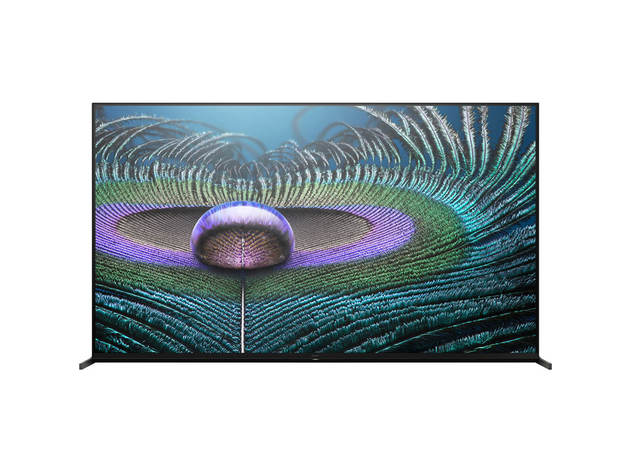 KEY FEATURES
8K UHD 7680 x 4320 LED Panel
HDR10 HLG Dolby Vision Compatibility
Variable Refresh Rate for Gaming
Built-In Wi-Fi & Ethernet Connectivity
Google TV
Access the Google Play Store & Apps
Apple AirPlay 2 & Chromecast built-in
Alexa Siri Google Assistant Control
4 x HDMI / 3 x USB
Dolby Atmos DTS Digital Surround
PRODUCT SPECS
Enjoy compatible movies and online content at four times the resolution of 4K UHD with the Sony Z9J 85″ Class HDR 8K UHD Smart LED TV. It has an 84.6″ LED display and incorporates Variable Refresh Rate (VRR) technology to enhance console gameplay to reduce tearing. HDR10 HLG and Dolby Vision compatibility offer a wide color gamut and enhanced brightness and contrast to provide vibrant lifelike images for compatible content.
The Z9J has built-in Wi-Fi and Ethernet connectivity to allow access to the Google Play store your favorite apps and internet-based content via Google TV plus content sharing and screen mirroring with Apple AirPlay 2 and Chromecast built-in with your other compatible smart devices such as your smartphone or tablet. The Vewd web browser is also available for download through the Google Play store and enables access to standard websites. With four HDMI inputs there are multiple options for connecting high-definition video sources such as a Blu-ray Disc player cable/satellite box gaming console and more. Three USB ports are also onboard for connecting compatible multimedia peripherals like flash drives enabling computer-free multimedia playback. Voice control of the TV is available via Amazon Alexa Apple Siri and the Google Assistant.
Cognitive Intelligence with the Cognitive Processor XR
See how real your entertainment becomes and experience immersive depth and lifelike picture quality powered by Sony's Cognitive Processor XR. Revolutionary TV processing technology delivers enhanced contrast with detailed blacks and natural colors. Hundreds of thousands of individual on-screen elements are processed and remastered in the blink of an eye boosting color contrast and clarity bringing astounding realism to your content.
Billions of Accurate Colors and Precise Textures
See colors that are natural and beautiful to the human eye. The Cognitive Processor XR enables Sony BRAVIA XR TVs to access billions of accurate colors and reproduce each shade with the subtle differences seen in the real world. XR TRILUMINOS Pro further enhances the range of hues and saturation allowing for extremely precise details within textures and ensuring skin tones look completely natural as seen with the same accuracy as the human eye.
Real-Life Depth with Deep Blacks and Intense Brightness
Experience real-life depth and detail with the deep blacks and intense brightness of a full-array LED and XR Contrast Booster 15 powered by the Cognitive Processor XR. By controlling brightness in sections of the screen independently the full-array LED balances light output to ensure scenes are full of breathtaking contrast. XR Contrast Booster 15 further enhances contrast to feel more true-to-life by maximizing peak brightness and precisely controlling black levelsno more details overwhelmed by shadow or lost in blown-out highlights.
The Entertainment You Love with Help from Google
See over 700000 movies and TV episodes all in one place. Google TV brings your favorite content from across your apps and subscriptions and organizes them just for you. Searching is easyjust ask Google. Press the Google Assistant button on your remote and just say "find action movies" or "show me sci-fi adventure TV shows" to search across your favorite apps.
Bring the Cinematic Experience Home with BRAVIA CORE
With BRAVIA CORE you can enjoy the latest Sony Picture Entertainment (SPE) titles and the largest IMAX Enhanced collection. Use the included BRAVIA CORE credits to choose from hundreds of the latest release movies to redeem. In addition you are subscribed to an amazing selection of movies to stream anytime and as many times as you like. BRAVIA CORE features Pure Stream technology achieving near-lossless 4K UHD Blu-ray equivalent quality with streaming up to 80 Mb/s delivering stunning visuals and expressive sound quality.
Engineered for Next-Gen Gaming
Take your gaming to the next level with BRAVIA XR HDMI 2.1-enabled TVs and feel the action all around you with responsive and blur-free picture quality. With 4K/120 Hz you'll achieve an increased frame rate significantly benefiting high-performance 4K gaming. And the dedicated BRAVIA Game Mode enables reduced input lag and optimized performance in every frame. Get the ultimate next-gen gaming experience with Sony BRAVIA XR TVs.
Intelligent Motion Processing for Fast-Moving Blur-Free Scenes
Watching sports and action-packed movies just got a whole lot better. The Cognitive Processor XR with XR Motion Clarity cross-analyzes and precisely controls the action in every scene to ensure pictures quality stays smooth bright and clear with no blur.
Beautiful Picture from Any Angle
X-Wide Angle technology preserves vibrant real-world colors and retains more brightness while viewing the TV from any angle so even people watching at the sides get a premium viewing experience. X-Anti Reflection ensures a clearer screen with reduced glare and light reflection making watching in bright rooms a great experience.
Sound and Picture in Perfect Harmony
An audio experience that matches how we sense the world. Acoustic Multi-Audio includes two sound-positioning tweeters on the sides of the TV elevating the soundstage and enabling sound to follow the action for a truly immersive experience. Hear sound more clearly and accurately in whatever you're watching.
Enjoy Immersive and Engaging Cinematic Content as the Creator Intended
High Dynamic Range (HDR) picture is the way TV was always meant to be watched. Ultra-high resolution and HDR video content combine to bring dazzling detail color and contrast to everything you watch while keeping a far wider range of brightness. Dolby Vision brings scenes to life with striking highlights deeper blacks and vibrant colors. IMAX Enhanced content brings the immersive entertainment experience into the home and is digitally remastered to provide sharper images and more powerful soundjust as the creator intended. Netflix Calibrated Mode was specially developed to enjoy Netflix original content and reproduce picture quality as brilliant as the studio evaluation monitor faithfully reproducing the creator's intent and vision. Whichever the format Sony TVs deliver picture-perfect reality creating an immersive and engaging cinematic experience.
Watch What You Love and Control It with Your Voice
Your TV is now more helpful than ever. Use your voice to find movies stream apps play music and control the TV. Ask Google to find a specific title search by genre or get personalized recommendations on what to watch by saying "what should I watch?" Even get answers on screen control smart home devices and more. Press the Google Assistant button on the remote to get started.
All Your Favorite Streaming Apps in One Place
Sony TVs with Google TV give you access to all your favorite streaming apps in one place including Netflix Amazon Prime Video Disney+ YouTube the Apple TV app and many more. Get access to all your favorite movies and TV shows in a simple easy-to-navigate interface and use the Google Assistant to quickly find new content to watch.
Works with Apple AirPlay 2 & Apple HomeKit
With Apple AirPlay 2 you can share pictures video or audio to your television right from your iPhone iPad or Mac. Watch movies and shows from your favorite apps and the Apple TV app or even Safari. Share your photos with everyone in the room.
Designed to Complement Your Viewing Experience
The minimalist One Slate design with metal flush surface elegantly embraces the screen in a single pane of glass that keeps you focused on the big picture. The premium 3-way multi-position stand gives you the flexibility of a low-profile immersive setting that focuses your attention on the picture a narrow setting for smaller furniture or a raised setting for ideal positioning of your soundbar. Integrated cable management keeps wires neatly hidden so your furniture stays free of clutter and looks great from all sides.
Premium Backlit Remote
The premium design remote in brushed aluminum with hairline finish feels ergonomic in the hand and harmonizes with your living room. Control your TV even if there are objects in the way with Bluetooth connectivity and use a variety of simple one-push buttons to easily launch some of your favorite apps. Lights down remote upsimply hold up the backlit-remote to change channels and volume when watching TV in darkness.
XR 8K Upscaling
Whatever the content or source you'll enjoy entertainment close to 4K resolution with XR 8K Upscaling. The Cognitive Processor XR accesses a vast amount of data intelligently recreating lost textures and detail for real-world pictures. See details such as naturally defined animal fur and sharply outlined rocks.
XR HDR Remaster
With XR HDR Remaster this TV can detect each object on screen analyze its color and adjust contrast for even more realistic pictures. Object-based processing powered by BRAVIA XR takes precision to a whole new level by adding adjustment of hue saturation brightness motion vector bandwidth and more. The result is exceptionally real scenes with greater depth lifelike textures and natural colors.
8K XR Super Resolution
XR Super Resolution detects individual objects in a picture and reproduces virtually real-world textures on screen. The BRAVIA XR processor precisely analyzes and processes data to power 4K pictures with four times the resolution of Full HD to enrich scenes with real-world detail and texture.
8K XR Smoothing
XR Smoothing creates smooth natural 8K pictures as you watch without the "banding" that can occur on other TVs. Scenes are reproduced with thousands of tones shades and gradations making them look incredibly real.
XR Sound Position
For an audio experience that matches how we sense the world XR Sound Position brings you the reality of sound behind the picture. With sound-positioning tweeters on this BRAVIA XR full-array LED TV sound matches precisely with what's on the screen for a truly immersive experience.
XR Surround & 3D Surround Upscaling
With BRAVIA XR everything you watch gets the true surround-sound treatment. XR Surround creates surround sound from the sides and vertically so you can experience 3D audio without the need for in-ceiling or up-firing speakers.
BRAVIA XR signal processing technology enables this TV to reproduce multi-dimensional sound for a truly immersive experience. Feel the sound surround not only from left and right but also from a vertical dimension. With 3D Surround Upscaling you can experience the cinematic thrills of latest audio formats such as Dolby Atmos at home as well as enjoying vertical surround with content not compatible with Dolby Atmos.
Voice Search
Find your favorite content faster than ever using the power of your voice. With Voice Search there's no more complicated navigation or tiresome typingyou just have to ask.
Works with Alexa
Connect your Alexa-enabled devices for seamless hands-free control of the TV. With Alexa you can power up your TV change channels control volume and more.
Chromecast built-in
Chromecast lets you cast your favorite videos games and apps from your mobile device in full quality to the TV. Just one tap of the Cast button on your Android or iOS screen is all you need to supersize the things you love. Cast your content then continue browsing on your phone or tablet.
Living Decor
The Living Decor feature turns your TV into an essential part of your living space with on-screen artwork personal photos screensaver themes and clock functions.
Light & Color Sensor
When the hue of a light source in a room changes for example between cool and warm colors of the TV picture change accordingly and can become unnatural. This TV includes an RGB light sensor that optimizes color and brightness of the picture to the light source and room environment.
Acoustic Auto Calibration
No matter where you're sitting this TV detects your position and optimizes sound so you'll enjoy the same sound quality as if you're sitting right in front of the TV. Sound can change depending on your room environment. Curtains for example absorb sound while objects in front of the TV can disturb the passage of sound compromising the quality of what you hear. This TV detects objects and reproduces sound that's enhanced and optimized to your room.